Fleur dePeralta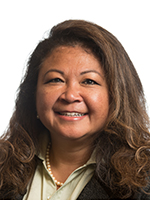 Pacific Northwest National Laboratory
PO Box 999
Richland, WA 99352
Send Email
Biography
Ms. de Peralta is a Senior Advisor in the Risk and Decision Sciences Group at the Pacific Northwest National Laboratory (PNNL), which is operated by Battelle Memorial Institute for the U.S. Department of Energy. Ms. de Peralta received a Bachelor of Science degree in Mechanical Engineering from the University of California, Los Angeles (UCLA) with emphasis on Thermal Science and Power Systems. She also received a Master of Arts degree in Mental Health Counseling, and Certificates from UCLA Extension programs associated with Engineering Management and Fire Protection Engineering. Ms. de Peralta has over 30 years of experience in the nuclear power industry and worked with various nuclear power plant utilities and nuclear industry stakeholders (Nuclear Regulatory Commission (NRC), Department of Energy (DOE), Nuclear Energy Institute (NEI), Institute for Nuclear Power Operator(INPO), National Nuclear Security Administration (NNSA) and Department of Defense (DoD)] and is proficient in the following technical areas:
Project Management and Program Management
Risk-informed and performance-based licensing activities for nuclear power plants
Development of training programs for NRC inspectors
Nuclear safety analyses/safe shutdown analysis, design bases accident (DBA) analyses
Cyber Security Programs and Risk Assessments
Environmental Impact Statements for nuclear facilities
Emergency Management Programs
Energy and Water Resilience Assessments

Research Interests

Nuclear Regulations and Policies
Nuclear Safety Analysis
Cybersecurity Risk Assessments
Cybers Security Policies and Programs
Risk-Informed Performance-based Nuclear Power Plant Programs
Fire Hazards Modeling and Fire Risk Evaluations
Training Programs
Nuclear Power Plant Design and Operations
Nuclear Power Plant Licensing and Decommissioning
Environmental Impact Assessments

Education and Credentials

2002- 2005 Argosy University, Seattle, WA, MA in Mental Health Counseling
1987-1988 UCLA Extension Program, Fire Protection Engineering Certificate
1986 UCLA Extension Program, Engineering Management Certificate
1982-1986 UCLA, BS Mechanical Engineering (Thermal Science and Power Systems)

Affiliations and Professional Service

Registered, Professional Mechanical Engineer License, California (#27214)
Member, National Fire Protection Association (NFPA)
Member, American Society of Mechanical Engineers (ASME)
Professional Member, Society of Fire Protection Engineers (SFPE)

PNNL Publications

2015

Short S.M., G.A. Coles, K.L. Bohlander, R.F. Layton, W.J. Ivans, F.A. dePeralta, and P.P. Lowry. 2015. "IMPLEMENTING THE NFPA 805 PROCESS: Observations of a Technical Reviewer." In International Topical Meeting on Probabilistic Safety Assessment and Analysis (PSA 2015), April 26-30, 2015, Sun Valley, Idaho, Paper No. 12281. La Grange Park, Illinois:American Nuclear Society. PNNL-SA-106641.