Sadie Montgomery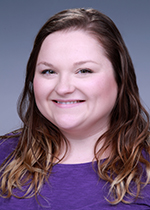 Pacific Northwest National Laboratory
PO Box 999
Richland, WA 99352
Send Email
Biography
Sadie Montgomery works in the Risk & Decision Sciences group as a Data Scientist. Sadie's diverse background includes leading agile teams as scrum master, task documentation and management, querying and analyzing large datasets, quality assurance and testing of data and software. Sadie also has an extensive background in geospatial processing and analysis. Sadie received her Bachelor of Science in Mathematics at Washing Statue University, with a focus in Actuarial Science.
Research Interests
Data visualization and analytics
Geospatial processing and analysis
Quality Assurance
MSSQL, Python
Tableau
Education and Credentials
B.S., Mathematics, Washington State University
Affiliations and Professional Service
2011 Office of Science SULI Certificate of Achievement
2013 EED Outstanding Performance Award
2015 EED Project Team of the Year Award
2017 EED Project Team of the Year Award
2017 EED Outstanding Performance Award
PNNL Publications
2018
Freedman V.L., P.D. Royer, X. Chen, S.A. Montgomery, and J.J. Garza. 2018. "ATLAS: Story Maps for Communicating Groundwater Cleanup Status - 18510." In Proceedings of the 44th Annual Waste Management Conference (WM2018): Nuclear and Industrial Robotics, Remote Systems and Other Emerging Technology, March 18-22, 2018, Phoenix, AZ, 8, 5530-5538. Tempe, Arizona:Waste Management Symposia, Inc. PNNL-SA-130420.
2015
Fowler K.M., A.H. Colotelo, J.L. Downs, K.D. Ham, J.W. Henderson, S.A. Montgomery, and C.R. Vernon, et al. 2015. Simplified Processing Method for Meter Data Analysis. PNNL-24331. Richland, WA: Pacific Northwest National Laboratory. Simplified Processing Method for Meter Data Analysis
2011